Before Half Term in Art we were studying landscapes, and specifically chalk pastel landscapes. We were lucky enough to have a chalk pastel landscape artist named Cathy Pearce come to school and deliver a workshop. She is an incredible artist who transforms landscapes into emotive pieces of artwork. She focuses on creating bold, abstract drawings of the fields near her home in Wiltshire. She says that she gets most of her inspiration from areas around her house, and has a specific favourite field where she will go and sit to draw in. She says that because she has drawn this field so many times, she knows the ins and outs of it, what it's like at every point in the year, what time the sun rises and goes down, and how the shadowing falls on the trees.
Due to her intense knowledge of this field, she is able to create timeline stages of it throughout the day. One of the most important aspects to her pieces, I would say, is the use of light. She shows the light rays shooting out from the sky with expressive line marks, which makes the drawing have interesting contrasts. After showing us her techniques on using different lines and sides of your pastel to create new textures, and thinking about depth and angles, we set off outside to begin our own. We managed to get down some observational drawings of the flower garden but unfortunately we were struck with some bad weather and it started pouring down with rain. A brave few managed to stay outside to carry on their drawings, however, most of us returned back inside to carry on our drawings looking through the window.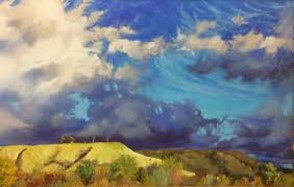 With Cathy's help, we were able to produce beautiful and expressive landscapes, and, surprisingly, the rain brought on quite a nice effect to the drawings. The storm clouds gave us a good opportunity to practise drawing some erupting clouds; we learnt to use many different colours rather then just dark grey for the clouds. An important aspect to the clouds was also the direction of the pastel stroke. To create the curves and shapes that the clouds make, we had to use a series of repetitive lines in different colours to build tone and texture.
Although abstract landscapes are her main priority, Cathy also does a few zoomed-in realistic drawings of flowers. This time, using much more precise movements with her pastels, she creates delicate movement in the flowers, and you can almost see them moving in the wind. Her most commonly drawn flowers are dandelions. Once again, light in these drawings are so important because she has to capture the roundness of the flower but also conform to their see-though manner. Overall, we were very grateful to have the experience of watching a proper landscape artist in our studio, and we learnt many valuable lessons from her.